Cody's Story
Cancer Free
October 2000

I apologize for not updating anything for so very long. It's been a rough year, but Cody is doing well. He turns 10 on October 6th, when I am in Dewey Beach, for Greyhounds Reach the Beach 2000. He had his regular 12 week Bayer study checkup on September 15th and his lungs are clear!!!! So, Cody is now 20 months post diagnosis and surgery. I am finally to the point where I will admit that Cody is cancer-free!

In mid-June, the Animal Care Center at CSU was invited by the American Cancer Society to bring some of the cancer survivors to their Relay for Life and participate in the survivor's lap. Cody was one of the dogs invited and we didn't just walk the lap, we ran the lap. As part of this, they also had luminarias that you could buy to honor or memorialize someone. I honored Cody and I memorialized all the other greyhounds who have gone to the Rainbow Bridge. It was sad, but a good feeling to see those luminarias around the track.

In late June, however, Cody's kidney function was worse than at his March checkup. In March, his creatinine was at 3.2. By June, the creatinine was up to 3.6. They did an ultra-sound of his kidneys and told me that I would need to inject 1 liter of fluid/day subcutaneously into Cody. We started with 200ml and tried to work our way up through July. By the end of July, he had become so nervous about any of us touching his neck, regardless of the time of day, I seriously starting re-considering the fluids. He also snapped at Becky, my daughter who is a veterinary assistant. We tried smaller needles, but it just took longer. So, I put Cody on half regular food/half senior and tried to just simply push fluids on him.

In August, I had my vet over to do bloodwork on my whippet and asked him to also check Cody's kidney function. His creatinine was down to 3.4, so we were pretty much stabilized. The vet also checked other kidney numbers such as BUN and said that almost everything else is normal. This means that while Cody's kidneys may only be partially functioning, the parts that are working are doing a good job.

In July, Cody also got to go and visit our cabin, at an elevation of 9,500 feet. This was a bit of a strain on him, especially being on three legs. He loved it, though, especially sniffing all those new smells and watching all the little critters.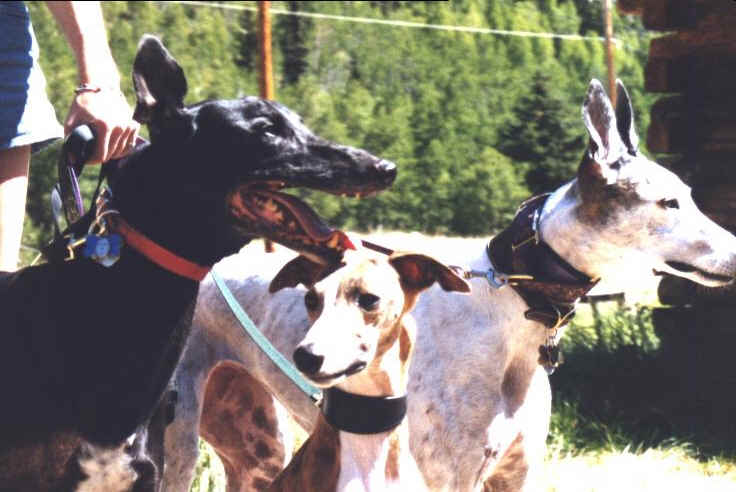 Cody, Dundee and Tasha
July 2000 at the Cabin
So, for now, we have normal days. Cody will always bug me for a walk and he's very content with a turn around the block. He can be found now and then playing with toys. Always, his tail is wagging. He's happy and pretty darn healthy, especially for a 10 year old cancer survivor on 3 legs! Each and every day that Cody is with us, wagging his tail, begging for walks or meals, is a precious day for us. Cody is my beloved heart dog and he is a survivor.

copyright © 1999-2011 by Stephanie Russell Last Update (07/03/2011)