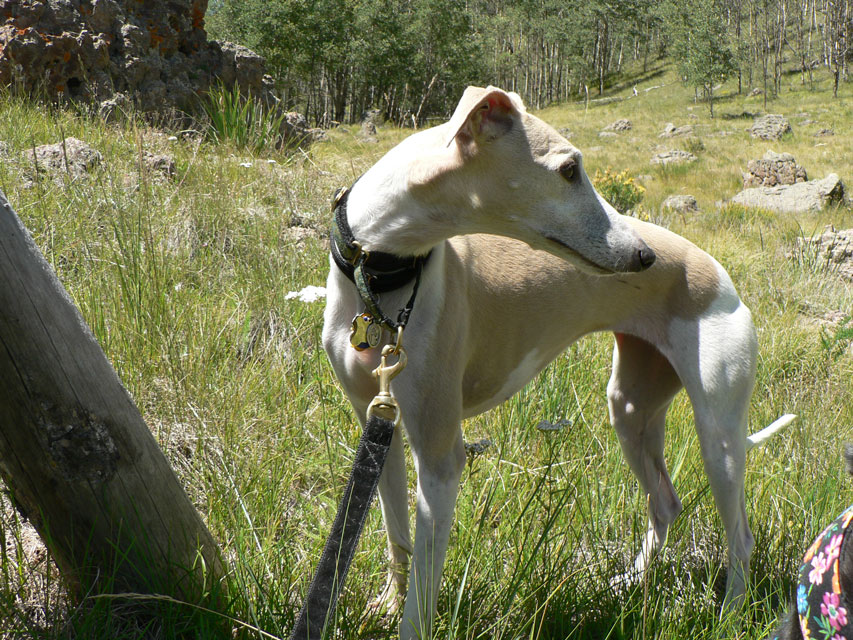 Callie, RN, CGC
Birthdate Unknown, Gotcha Day 7/25/2010

Callie and I have continued our training in Rally Obedience with Kathy Howse at Four Paws in Longmont. After much encouragement from both Kathy and my friend, Eileen, I registered Callie with the AKC and got her PAL# in November, 2011.
In April 2012, we entered our first Rally Obedience Trial sponsored by the Terry All club. On 4/14/2012, we did our first, we scored an 85 and placed 3rd! Phew! On 04/15/2012, we scored a bit higher, with an 87 and placed 4th.
Due to life and work, we didn't enter another trial until the Flatirons Club trial in September. There were only 2 entries, Callie and another dog. We went through, had to re-do one sign, but scored an 85! The other entry didn't qualify, so Callie took first place AND since this was her 3rd qualifiying score, she now has her Rally Novice Title!

After returning from Creede, after Dundee's passing, our neighbor's friend mentioned that she had an Australian Cattle Dog available for adoption. Red came to visit one afternoon and Nakita just didn't seem to like him. Knowing that Nakita is generally very congenial with other dogs, we knew that this would not be a good match. In addition, since we don't have a real yard, we knew we just weren't the right home for that beautiful boy.
However, Steph was drawn to the Whippet Rescue website, aka WRAP. Callie was the only Whippet available for rescue in Colorado. So, Steph filled out the adoption application and contacted the adoption coordinator. After several days of waiting with no word, Steph sent an email to the other Colorado adoption coordinator and was able to set up a meeting.
Callie was very sweet at the meeting, but understandably nervous. She pretty much ignored Nakita, which was good. And, eventually, she came to sit next to us on the couch. The adoption coordinator needed to do a home visit and check with her manager about us, so again, we had to wait. At last, the home visit was scheduled for Sunday, July 20, 2010. It was a bit of a chaotic weekend, as we had both our grandchildren. But, all went well and Callie stayed to live with us.
Anytme you bring an adopted dog into a new situation, there are almost always issues. The first day at work, Callie chewed up the crate pad. She panted and shook in the crate. Sometimes, she peed and pooped in the crate. If she was left loose in the house, she would pee and poop in the basement. We tried a doggy diaper. That worked for a few weeks, until she decided that was enough and started taking it off. Thunder scares her, as does the car.
Through it all, you could see the sweet, terrified girl inside her. Patience goes a long way. Moving to a plastic crate helped a bit. Moving the crate away from the birds also helped. Oh, she still doesn't like the crate and will sometimes have an accident, but it is better than leaving her loose. For the car, we've tried Diazepam and Xanax. Both barely settle her down. The Thundershirt works the best. With the Thundershirt, we managed a trip to Boise, Yellowstone and the Tetons with limited stress.
In addition, Steph took her to train for her Canine Good Citizen, which she passed on March 29, 2011! As the class progressed, we noticed that she seemed to calm down in the car after. So, Steph started taking her to Rally Obedience. Steph and Callie now go weekly to Four Paws and Co. Not only is Callie doing better to/from the class, she LOVES the class. If I go out with out her on a week night, she cries as if I've left her forever (according to Dave)!
| | |
| --- | --- |
| Callie, the Hoarder...she loves her toys! | Callie gets cold at night, so we got these from Dede at our favorite pet boutique, Bark Avenue. |
| Callie & Steph after Callie passed the CGC test 3/29/11 | On the road, June 2011 |
copyright © 2012 Stephanie Russell All Rights Reserved

Last Update (10/12/2012)