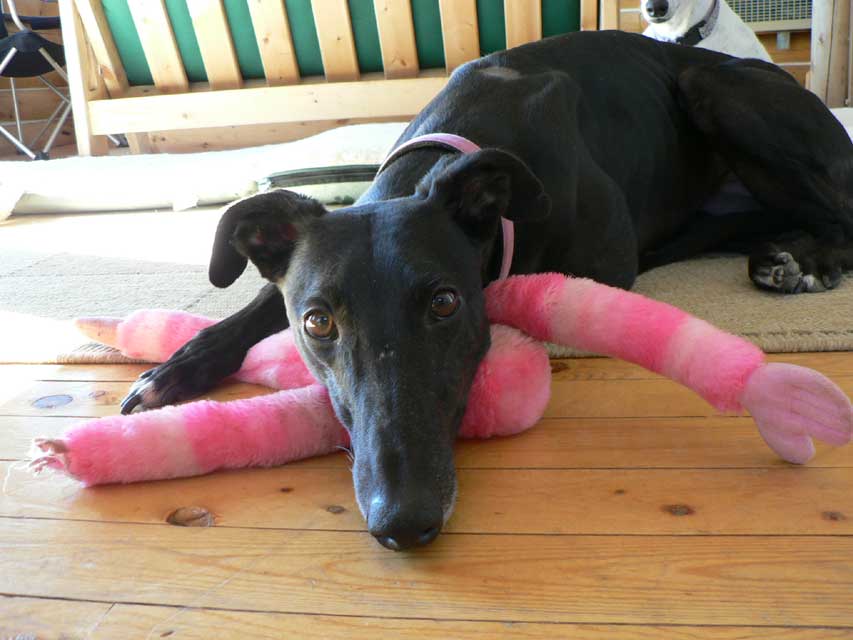 Nakita
Mana Nakita, CGC
Born April 13, 2000

Steph and Tim met Nakita, aka Mana Nakita, in November of 2005 at Heather Weir's place, Almost Home for Hounds, in Nunn, CO, when we went up to help out. Nakita was the only greyhound that was allowed in the turnout pet without a muzzle, with either the girls or the boys! Steph fell in love with this friendly, but shy girl. She also knew that if she was to bring in any greyhound with Tasha, Dundee and Cooper, this was the girl.
Tasha, at the time was over 13 and had been having problems with her lower back and back legs. We seriously believed that it was only a matter of time before she passed on, so Heather kept Nakita with us until late February, 2006, Heather told Steph that someone else was interested in Nakita. Well, that did it...Nakita had to come home! So, on March 4, 2006, Nakita came home to live with us.
Nakita fit right in. She played with Cooper, cuddled with Dundee and best of all, respected Tasha's alpha position in the pack. Since Tasha and Cooper have both passed, Nakita has inadvertently stepped into the role of alpha female. But, she's only pushy to Steph when she thinks it's time for a walk. She has been great with Dundee, but she definitely misses her big play buddy in Cooperl
Nakita received her CGC in November 2007! She's great on a walk...she seemed to already know how to heel when we first adopted her!
| | |
| --- | --- |
| Christmas 2007, in her Christmas collar | Kylie, giving Nakita a hug, June 2008 |
| At the Gathering Parade, Kanab 2007 | Nakita is the ONLY dog we have that cats like! |
copyright © 2008 - 2011 Stephanie Russell All Rights Reserved

Last Update (07/03/2011)