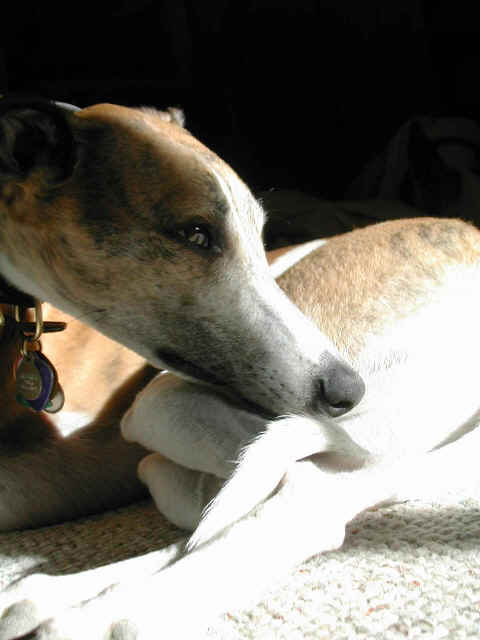 Dundee
05/22/1998 - 07/01/2010
Y NOTZ High Mountain Son, CGC

(Ch Surrey Hill's Firing Line, FCh x Blarneystones Fer De Lance FCh)

Dundee was born on 5/22/1998 in Yelm, WA, in the shadows of Mt. Rainier. He came home to live in Colorado, in the shadows of the Colorado Rocky Mountains. Thus, his registered name had to have Mountains involved.

As of 5/22/2008, Dundee will be 10 years old! He is a very happy whippet, loves his walks and playing fetch with a tennis ball or running around with a soccer ball.

He is, unfortunately, an epileptic. He has been having seizures since he was 18 months old. It's a struggle, but the Phenobarbital and potassium bromide provide some control. Seizures were starting up every 1 1/2 - 2 weeks, so recently, we started acupuncture. Hopefully, this will gain him some better control, without adding more drugs.

And, as if the epilepsy isn't enough, Dundee also has a heart murmur. Thankfully, that has stabilized.

Aside from his health issues, Dundee is a hoot. He's always the first to play, but also one of the first to cuddle. Tasha was his mom and Nakita is now his sister.
Tribute to Dundee:
Dundee passed on July 1, 2010. To ease the pain of his loss, Nakita and I joined Dave and Tim at our cabin west of Creede. The fresh air and different atmosphere has helped, but this will be a long healing time. :( I want to share a little bit about my boy with those of you who knew him, one way or another.

Dundee 5/22/1998 - 7/01/2010
About 13 years ago, I fell in love with Whippets, when I met the Sun Run Whippets, owned by Sally deBeque-Smith, when she opened her pet boutique, Bark Avenue.

At the time, I had Greyhounds Cody and Tasha. Whippets were like Greyhounds, but in smaller packages and they intrigued me.
Unfortunately, there wasn't a Whippet pup available in Colorado and almost none in rescue, unlike our beloved Greyhounds.

So, the hunt took me to the Whippet mailing lists and I soon "met up" with Tommie Porter, of YNOTZ Whippets.

Her girl, Fergie had been bred to Ch Surrey Hill's Firing Line, FCh

,

Barkley.

Tommie put me on the list for a puppy!
On May 22, 1998, the litter was born.

Then the wait came to see if there were any pet quality pups.

But, one little fellow caught my eye...the only brindle in the litter, an Irish marked red bindle boy.

Turns out Tommie decided this boy could be mine and I will thank her forever for this wonderful Whippy boy.
I wrestled with names and finally decided upon YNOTZ High Mountain Son, CGC, aka Dundee.

The name, High Mountain Son, because he was born in the shadows of Mount Rainier in Yelm, Washington and was going to live his life in the shadows of the Colorado Rocky Mountains, outside of Boulder, Colorado.

However, the name Dundee was not after the movie, but Dundee, Scotland, since Dave visited Scotland a couple weeks after I flew up to Seattle and brought this sweet pup home.
From the start, Dundee was a little spitfire.

Tasha became his canine mom and was the only creature Dundee would immediately listen to.

But, Dundee was first and foremost a "Momma's Boy" and totally mine.

While he could always be counted on to help wake up a teenager reluctant to get out of bed, he always looked for me.
Where Tasha was the true Alpha B, Cody, the elite regal boy, Cooper, the protector and

Nakita the perfect dog, Dundee was the comedian and brat of the family.

Oh, he could be really sweet, but turn your back and he was eating something that shouldn't be eaten or grabbing and running with something he shouldn't have.

He was a wonderful jogging partner, but take him on a walk or hike on a hot day and he would search for the shady spots.

And, oh, how that dog loved to cuddle.

I was his favorite, but anyone who sat on his couch would work.
Unfortunately, Dundee's health was less than perfect.

When he was about 18 months old, he had his first seizure.

About 4 months later, he started having cluster seizures.

Me, being the geeky engineer, tried to find a pattern, so kept a spreadsheet.

Over Dundee's life time, he had a total of 199 seizures that I or a family member witnessed.
Life became a series of 12 hour periods...making sure Dundee got his medications on time, whether we were at home, at the cabin or traveling on the road.

We left him 1 time with a non-family member, only to have him drop into a long painful series of seizures.

So, if we couldn't take him with us, we just didn't go.

And, over the past couple of years, I didn't even leave him over night, because he was always stressed when I wasn't around for a few hours out of the ordinary. A few years ago, we discovered he had a heart murmur on top of these seizures.

Thankfully, he never had any symptoms, but you could eerily feel the murmur if you put your fingers on his chest.
Then, in April 2010, Dundee got very sick.

He had been having some diarrhea, but it just got worse.

Dundee's white blood count was really high and he was lethargic.

With the help of Amoxicillin and subcutaneous fluids along with TLC, he rallied.

But, that was the beginning of the end and we all knew it.

It was up and down for the next few months, though Dundee did make it to his 12th birthday.
Unfortunately, the diarrhea just wouldn't stay away.

After a couple of weeks trying to get it back under control, Dundee had dropped down to 30lbs and his back bone looked like dinosaur ridge.

Despite woo-wooing at me for meals, he was just worn out.

It was time.
So, late in the afternoon of Thursday, July 1, 2010, Bob came over and helped us let Dundee go to the Bridge.

Dundee is re-united with Cody, Cooper and especially Tasha.
Dundee, I know you are once again chasing that ball.

But, darn, I miss you little man.

I miss your sweet kisses, woo-wooing at me for dinner, whining at me to take you out, pulling me around the block, even how you would be bad while I was in the bathroom.

But most of all, I miss your sweet little head with the angel's kiss on the back of your neck resting on my leg.
Till we meet again, my baby boy...


copyright © 2008- 2011 Stephanie Russell All Rights Reserved

Last Update (07/03/2011)